🧁Już w poniedziałek zachęcamy do zakupu słodkości, które będą sprzedawane przez uczniów klasy 7A. Z pewnością każdy znajdzie coś dobrego dla siebie. Cel to pomoc w organizacji zajęć wakacyjnych dla uczniów z Ukrainy.
📍13 – 15 czerwca, czyli od poniedziałku do środy, po raz ostatni zbieramy dary dla Ukrainy.
Potrzebne rzeczy:
mleko dla dzieci Bebiko,
mleko dla dorosłych w kartonach,
pampersy (wszystkie rozmiary),
żywność w puszkach,
sól,
karma dla psów i kotów,
tabletki przeciwbólowe,
środki opatrunkowe i bandaże, środki higieniczne,
jedzenie długoterminowe.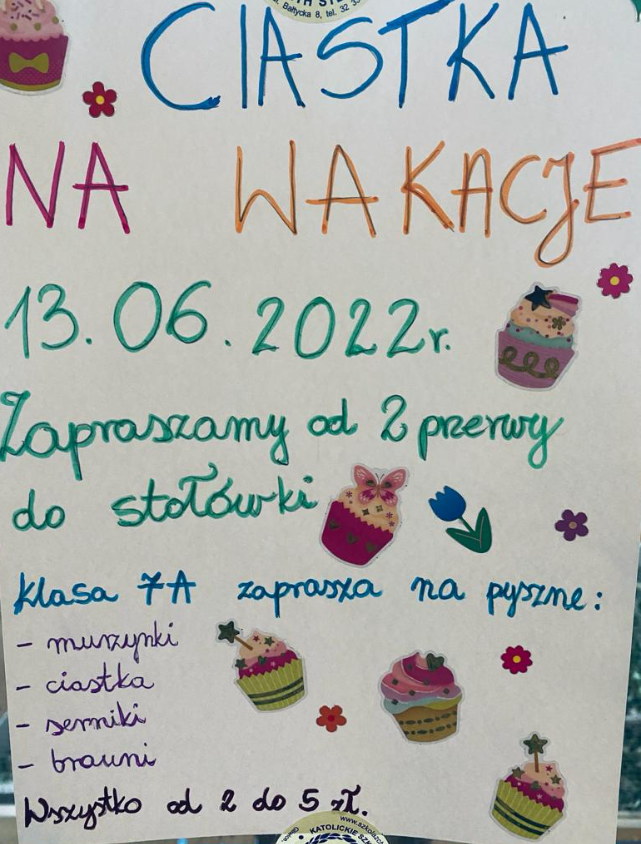 Wszystkie rzeczy prosimy składać w szkolnym holu.
Zachęcamy również do wpłat finansowych, za co z góry dziękujemy.
Fundacja: "Szkoła z Charakterem" im. Edyty Stein, w chwili obecnej opiekuje się 20 uczniami z Ukrainy. Część z nich może u nas zostanie, część wyjedzie dalej, pojawią się następni. Oprócz zajęć lekcyjnych organizujemy dla nich pomoc materialną, psychologiczno -pedagogiczną, wyjazdy edukacyjne i sportowe.
Osoby pragnące wspomóc naszą szkołę w organizacji edukacji dla tychże uczniów prosimy o wpłacenie darowizny na poniższe konto Fundacji: "Szkoła z Charakterem" im. Edyty Stein.
UWAGA: TO INNE KONTO NIŻ DO WPŁATY CZESNEGO
Nr konta: 44 1020 2401 0000 0502 0404 8401.
W tytule przelewu proszę napisać: "Darowizna na oświatowe cele statutowe dla uczniów z Ukrainy".