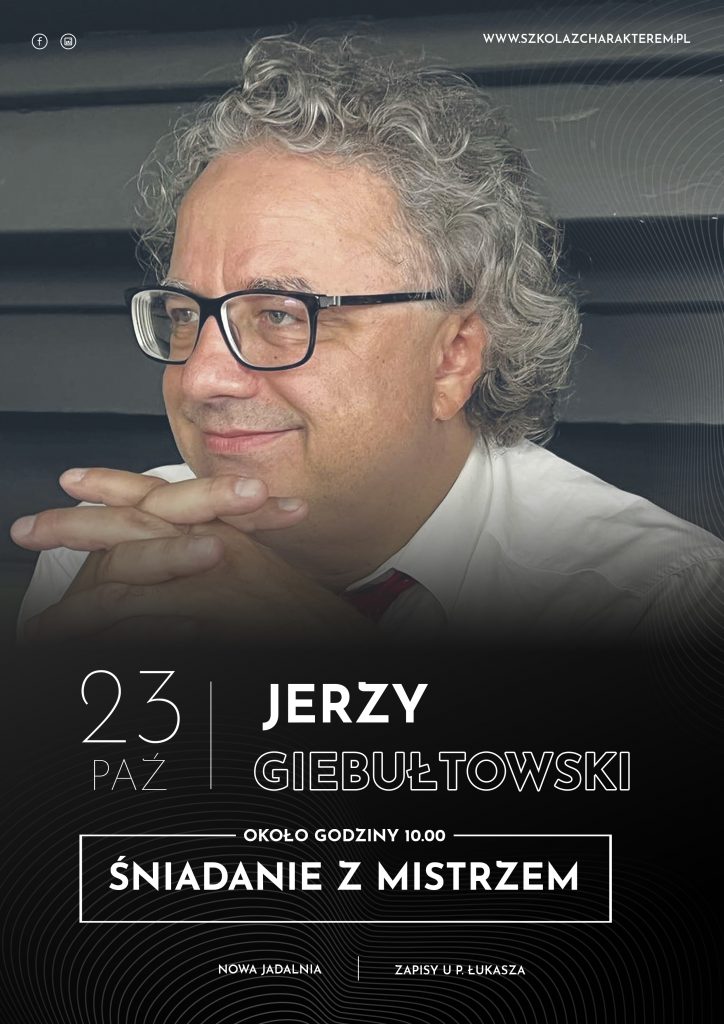 Kochani Uczniowie,
Mamy ogromną przyjemność ogłosić, że naszym wyjątkowym gościem na kolejnym "Śniadaniu z Mistrzem" będzie nie kto inny, jak Jerzy Giebułtowski – ceniony tłumacz, wydawca i ekspert od tłumaczeń książek. Pan Jerzy Giebułtowski to nie tylko wybitny tłumacz, ale także specjalista od dzieł amerykańskiego historyka Raul'a Hilberga – jednego z najważniejszych historyków XX wieku.
To będzie wyjątkowa okazja, by spotkać człowieka, który przyczynił się do dostępności tak ważnych dzieł w języku polskim. Pan Giebułtowski nie tylko tłumaczył prace Raul'a Hilberga, ale również wydał książkę "Czwarty Jeździec Apokalipsy" autorstwa B. Sawinkowa – jednej z najważniejszych publikacji opisujących genezę terroru w działaniach politycznych.
Data: 23 października
Godzina: około 10.00
Miejsce: nowa jadalnia
Zapisy: P. Łukasz
Nie przegapcie tej wyjątkowej okazji, by dowiedzieć się więcej o procesie tłumaczenia, wydawania książek i pracy nad dziełami tak znakomitych autorów. To również doskonała okazja do zadawania pytań, dzielenia się swoimi marzeniami i inspiracjami.
Do zobaczenia!