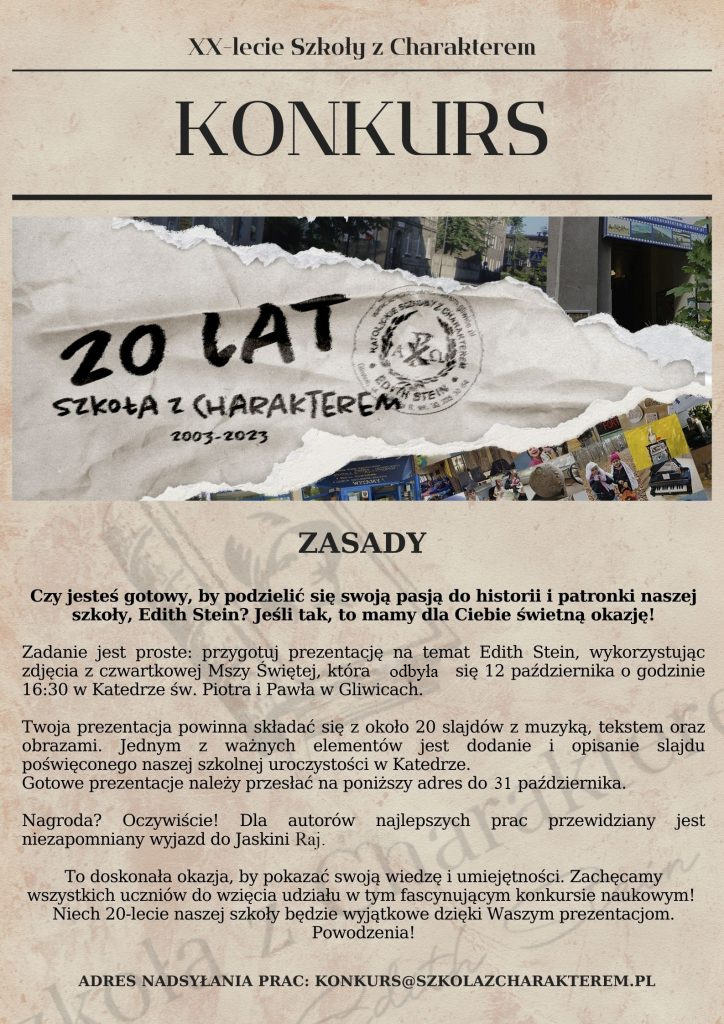 Przypominamy o Konkursie Naukowym z okazji 20-lecia naszej szkoły oraz
wydłużamy czas do nadsyłania prac do ostatniego dnia października!
KONKURS – XX-lecie Szkoły z Fundacja "Szkoła z Charakterem" im. Edyty Stein
Czy jesteś gotowy, by podzielić się swoją pasją do historii i patronki naszej szkoły, Edith Stein? Jeśli tak, to mamy dla Ciebie świetną okazję!
Zadanie jest proste: przygotuj prezentację na temat Edith Stein, wykorzystując zdjęcia z czwartkowej Mszy Świętej, która odbyła się 12 października o godzinie 16:30 w Katedrze św. Piotra i Pawła w Gliwicach.
Twoja prezentacja powinna składać się z około 20 slajdów z muzyką, tekstem i obrazami. Jednym z ważnych elementów jest dodanie i opisanie slajdu poświęconego naszej szkolnej uroczystości w Katedrze.
Gotowe prezentacje prosimy przesłać na poniższy adres: [email protected] lub w formie fizycznej do pracowni komputerowej.
A teraz wielka niespodzianka! Wyniki konkursu zostaną ogłoszone w dniu zadusznym, czyli 02.11.2023 r. Na zwycięzców czekają niezapomniane nagrody, w tym wyjazd do Jaskini Raj.
To doskonała okazja, by pokazać swoją wiedzę i umiejętności. Zachęcamy wszystkich uczniów do wzięcia udziału w tym fascynującym konkursie naukowym! Niech 20-lecie naszej szkoły będzie wyjątkowe dzięki Waszym prezentacjom. Powodzenia!